New Drug Approvals
telavancin
The antibiotic Vibativ (telavancin) has been approved by the U.S. Food and Drug Administration to treat pneumonia caused by Staphylococcus aureus bacteria when other treatments aren't suitable.
Pneumonia, a lung infection, can be caused by different bacteria and viruses. S. aureus infection often affects people in hospitals, notably those on ventilators. Such infections can be serious, since people on a ventilator often have a weakened immune system and are unable to fight an infection, the FDA said in a news release.http://www.drugs.com/news/vibativ-approved-certain-bacterial-pneumonia-45418.html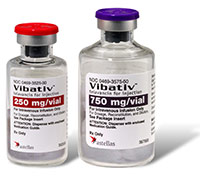 Telavancin (trade name Vibativ) is a bactericidallipoglycopeptide for use in MRSA or other Gram-positive infections. Telavancin is a semi-synthetic derivative of vancomycin.

The FDA approved the drug in September 2009 for complicated skin and skin structure infections (cSSSI)
On 19 October 2007, the USFood and Drug Administration (FDA) issued an approvable letter for telavancin. Its developer, Theravance, submitted a complete response to the…
View original post 208 more words