New Drug Approvals
Lantus® (insulin glargine)
June 5, 2013 –
Sanofi  announced today that the Committee for Medicinal Products for Human Use (CHMP) of the European Medicines Agency (EMA) has issued a positive opinion for inclusion in the Lantus® (insulin glargine) product label of safety and efficacy data from the insulin glargine cardiovascular (CV) outcomes trial ORIGIN (Outcome Reduction with Initial Glargine INtervention). The revised label is evidence of Sanofi's ongoing commitment to further assert the well-known safety and efficacy profile of insulin glargine, the most-studied basal insulin. The indication for the use of Lantus® remains unchanged.
Mechanism of Action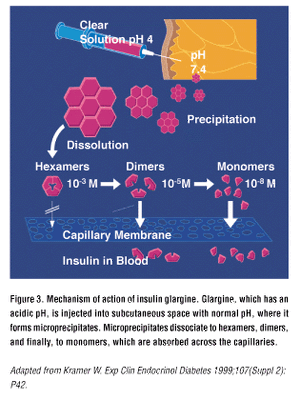 Insulin glargine (lantus) mechanism of action.
LANTUS (insulin glargine rdna origin injection) consists of insulin glargine dissolved in a clear aqueous fluid. Each milliliter of LANTUS (insulin glargine rdna origin injection) contains 100 IU (3.6378 mg) insulin glargine.
LANTUS® is a sterile solution of insulin glargine for use as an injection. Insulin glargine is a…
View original post 94 more words