New Drug Approvals
Sanofi's investigational diabetes drug U300, cas no 160337-95-1, insuline glargine, new formulation is better at controlling dangerous low blood sugar events at night than its blockbuster Lantus, according to data from a phase III clinical programme.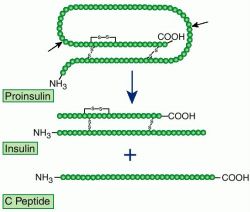 insulin glargine
Lantus, developed in the 1990s, is currently Sanofi's top-selling product, generating $6.6bn last year. But the drug is expected to lose its patent in 2015.
http://www.pharmaceutical-technology.com/news/newssanofis-new-insulin-superior-to-lantus-study?WT.mc_id=DN_News
http://clinicaltrials.gov/ct2/show/NCT01689142 reports clinical trials
To compare the efficacy of a new formulation of insulin glargine and Lantus in terms of change of HbA1c from baseline to endpoint (scheduled at month 6 [week 26]) in patients with type 2 diabetes mellitus.
Secondary Objectives:
To compare a new formulation of insulin glargine and Lantus in terms of change in fasting plasma glucose, pre-injection plasma glucose, 8-point self-measured plasma glucose profile.
To compare a new formulation of insulin glargine and Lantus in terms…
View original post 100 more words