New Drug Approvals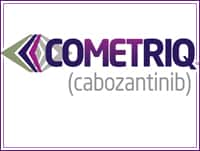 Cabozantinib (marketed under the tradename Cometriq, formerly known as XL184) is asmall molecule inhibitor of the tyrosine kinases c-Met and VEGFR2, and has been shown to reduce tumor growth, metastasis, and angiogenesis.
It was developed by Exelixis Inc.
Cabozantinib was granted orphan drug status by the U.S. Food and Drug Administration(FDA) in January 2011.

Cabozantinib was approved by the U.S. FDA in November 2012 for the treatment of medullary thyroid cancer.It is currently undergoing clinical trials for the treatment of prostate, ovarian, brain, melanoma, breast, non-small cell lung, pancreatic, hepatocellular and kidney cancers.
In October 2011, cabozantinib met its primary endpoint in a phase 3 clinical trial (EXAM) conducted by Exelixis investigating its effect on progression-free survival in medullary thyroid cancer.A new drug application was submitted in the first half of 2012, and on November 29, 2012 cabozantinib was granted marketing approval by…
View original post 444 more words